Listel Ski Fantasia has been hosting a number of international ski competitions such as FIS Freestyle Skiing World Cup Mogul, and is known as "The Holy Ground of Mogul" in Japan. Our 7 slopes range from the gentle 8 degrees in average to the steep 30 degrees in average where the mogul World Cups are held. Though compact in size, the variety of the slopes at Listel Ski Fantasia is sure to please everyone from the beginners to the advanced skiers. "Super Kids Club", our ski school for children, is also very popular.
Listel Ski Fantasia is very conveniently located within the property of Listel Hotel Inawashiro. Stay andrelax at our comfortable hotel as you enjoy your winter holidays skiing and snowboarding.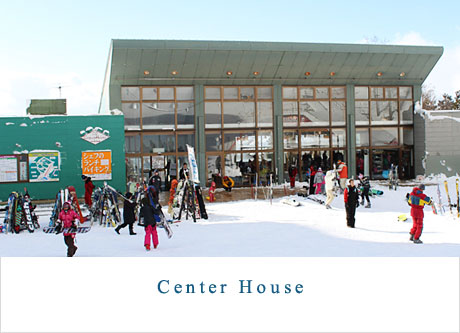 Centre House provides services such as restaurant, free rest area, ski school admissions, etc.
Vege-Full-Land is full of fun, with facilities like sleigh-only courses and other entertainment for children.